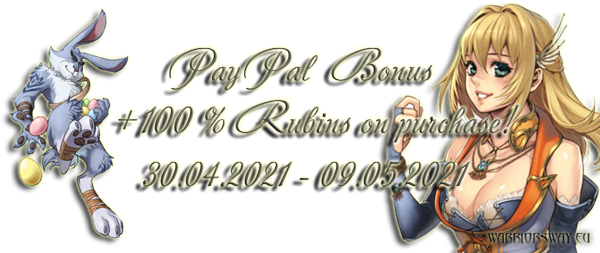 - Hello Warriors! We prepared a new event #Easter2021 with +100 % bonus Rubins on every Rubins purchase! The promotion is available for all payment methods (PayPal and SMS) from 30.04.2021 to 09.05.2021 (10 days). Please contact us to receive your bonus after each payments (HexC0DE#0653 in Discord, s-type on the website or FB page).

- Upcoming updates: From the begging of May, the Academy system will be reset and later reworked. Honor Rank will be based on daily collected JP not from infinity leveling characters with
key-presser from 1 to 40 level.Players still can use academy to help ,low level characters and
academy exp buff will be still available. Currently we are testing the new system in our test server.
More info will be announced when the new game system is ready.


Greetings from Warrior's Way Online Team!