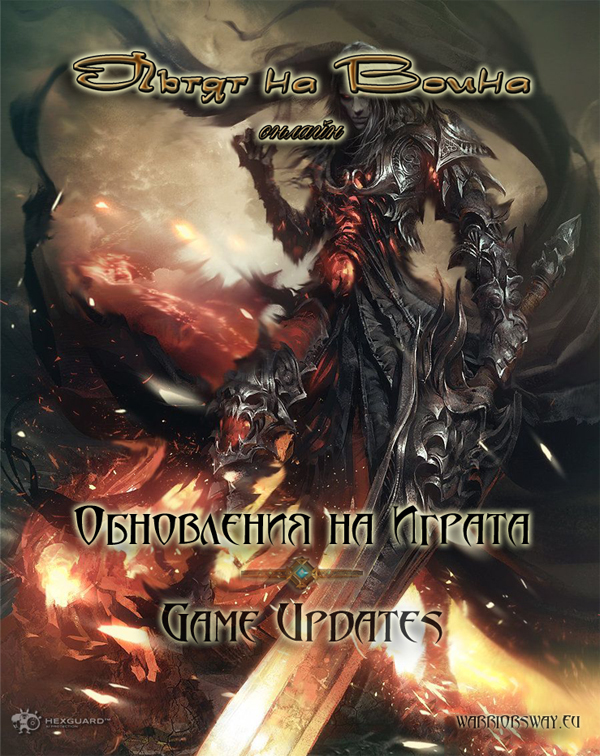 Game Updates - 29.12.2021
- Added mising Viking avatar attachmen in Item Mall
- Updated items in 'Jewerly Box' event. Speed Scroll 50% replaced with Speed scroll 75% (Drug of gales). Increased chance to get Globals. Removed Baloons,Redsugar loaf and Bluesugar loaf rewards.
- Updated items in 'Alchemy Event'. Chance to get Elixirs reward is increaesed x2. All Speed scroll 75% (Drug of gales) are replaced with Speed scroll 100%(Drug of typoon).
- Updated game client version to 1.004.03

*** To use the latest changes is required to update your client with the latest version 1.004.03 Currently the update is available only via 'WWO Quick Updater'.

Greetings from Warrior's Way Online Team!

Happy Holidays!
Game Updates - 23.12.2021
- Patched unique spawn bug for 90 level uniques from the 'Winter Unique Monsters Hunt 2021'
- Changed quantity of startup items of the new characters:
• 3 x Beginner scroll of experience (100%) -> 20 x Beginner scroll of experience (100%)
• 10 x Beginner scroll of movement -> 40 x Beginner scroll of movement
• 10 x Spirit Fragment Scroll -> 20x Spirit Fragment Scroll
Game Updates - 10.12.2021

- Added missing 'Alchemy Stone of Repair - 9 Degree' in all job NPC shops.
- Updated game client version to 1.004.02
Game Updates - 07.12.2021

- Game server cap updated to Level 90.
- Added two new areas Rocky Mountain (mobs 72 - 90 Lv.) and QunShi Tomb Underground level 1 and 2 (mobs 81 - 90 Lv.)
- All Quests/Skills and items updated to 9 Degree.
- Added 9 Degree weapons in job NPC shops.
- Added 75 Level vehicle and transport in Stable NPC's.
- Started new event 'Happy hour' for Beginners (8:00 /12:00/16:00/20:00 o'clock) The event is active for players 1-60 lv and give a 4 rewards daily depending of server time:

• 08:00:00, 11:59:00 1st 3 x Fast return scroll
• 12:00:00, 15:59:00 2nd 3 x 100% Speed Scrolls 60 min each
• 16:00:00, 19:59:00 3rd 3 x 10% EXP Scroll 3x30 min
• 20:00:00, 23:59:00 4th 3 x 100% EXP Scroll 60 min each

- Added new Daemon Shaitan Full Avatar set in Item Mall
- A new event is starting - 'Snow flakes event' . The event contain two small events.The first one required from players to hunt and kill the monsters Snow Slave. Some of the Snow Slaves will drop a Snow Flakes. Collect at least 10 Snow Flakes and bring them to So Ok for surprise rewards. There is small event counter located in game screen. On every 10 traded Snow Flakes the counter rises with 1 (the number is refreshing on every 10 minutes). If the players collect the required count of Snow Flakes , the whole server will gain new bonus exp event : +100% EXP/SEXP for period of 24 hours. The first target of Snow Flake is 50 (500 traded Snow Flakes to So Ok), the second is 101 (1001 Snow Flakes) Unfortunately ,the count is automatically increased by the game server and for the moment we cant change it. For each Snow Slave kill ,the players can obtain a small 5 minutes bonus buff from them like +15 STR/INT, abnormal status protection and many more. On every 100 Snow flake kills, the player that killed the 101 mob will get individual bonus buff +100% EXP/SEXP for period of 1 hour. Both bonuses can be used together.
- Added Christmas decoration in Jangan
- The event 'Winter Unique Monsters Hunt 2021' is continue.
- Updated game client version to 1.004.01


*** To use the latest changes is required to update your client with the latest version 1.004.01 Currently the update is available on the website and via 'WWO Quick Updater'.

Greetings from Warrior's Way Online Team!

Happy Holidays!
#warriorswayofficial #warriorswayonline #playwwo